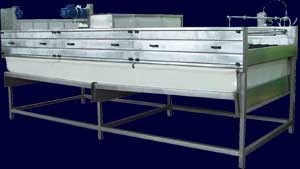 The machine is designed to remove dust, insects and chemical residues.
Fruits run on a nylon STRIP brush bed with a cylindrical profile to enable rotary and oscillating motion. Fruit feeding is made by thrust of the incoming product. In the initial part of the brush bed, a spray system sprinkles water on the fruits.
The brusher has a 25/10 press-bending plate and AISI 305 30/10 stainless steel pipes.
Motorization: a 2HP speed controller
Moreover, in order to ensure workers' safety, the machine is equipped with stainless steel protective shields.